Cremation and Memorial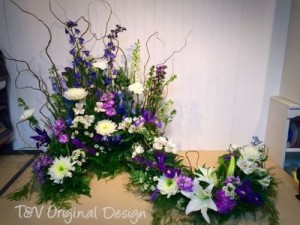 Floral Garden
T&V Exclusive
The style of this seasonal flower arrangement depicts the look of a casual garden. Peaceful and familiar as well as thoughtful and original. This arrangement is meant for an urn on one side and a picture on the other side. Can be made in any color scheme.
Cremation and Memorial Flowers
Flowers serve as an inspiration and a tribute to friends and loved ones during trying times. Cremation urn and memorial flowers can act as a personal expression of love or as a warm send-off. When you work with TWIGS & VINES FLORAL, we endeavor to illustrate the essence and memory of your loved ones with a beautiful floral expression of their lives. Our selection of floral inspiration covers a wide variety of personalities and tastes. Looking for something different, or want to add a personal touch? We also do custom arrangements. Call for pricing.